What is the Queen of Nassau?
According to Florida-Keys-Vacation.com, The Queen of Nassau is a 111-year-old Canadian Steamer. She is 200' in length and lays 230' beneath the surface of the water. She is located just 3 miles off Alligator Lighthouse and 5 miles off Islamorada.
She was powered by two large triple expansion engines and could cruise at a top speed of 22 knots. She was part of a small fleet of ships responsible for protecting Canada's fishing interests. She was considered the fastest vessel in the Canadian Fisheries Protection Service (CFPS). She was called the CGS Canada (Canadian Government Ship).
In 1915, she was christened HMCS Canada and used to survey for mines and protect troop convoys headed to England in the Royal Canadian Navy. She was returned to the Canadian Fisheries Protection when WWI ended in 1919.
Her time had come and the Canadian Fisheries opted to sell her. It wasn't until 1924 that Barron Collier, a land developer in southwest Florida, bought her. He renamed her the Queen of Nassau. He had intended to turn his new purchase into a passenger vessel providing service from Miami to Nassau, Bahamas. This plan fell though as she was not designed as a full passenger, luxury ship and lacked the fundamental necessities.
She ended up docked at Biscayne Bay for 18 months with one caretaker to watch over her when she was finally sold to a buyer from Mexico. Disaster struck while en route from Miami to Tampa. She began taking on water on July 2 1926. Realizing the ship could not be saved the 18 person crew abandoned ship and shortly after 7pm the Queen of Nassau slipped below the waves stern-first to it's watery grave.
Now, after nearly 89 years, she has become a spectacular dive site for technical divers who are trained to dive to her depths. She lays upright and is mostly intact and has more coral growth then you can imagine!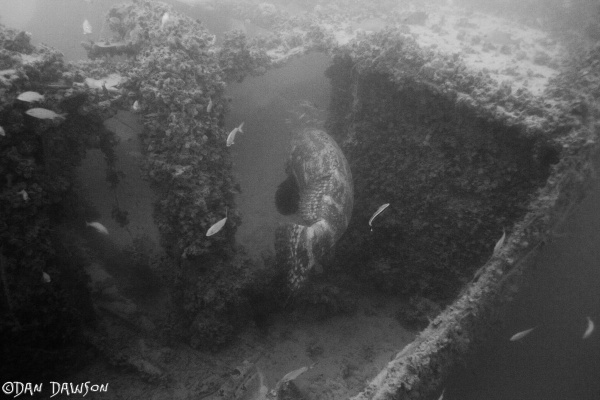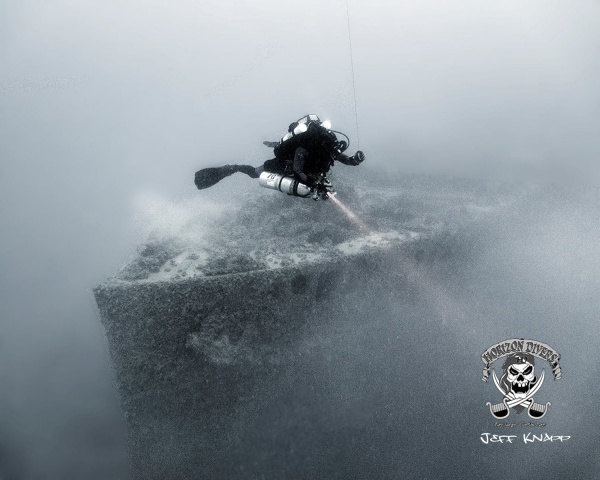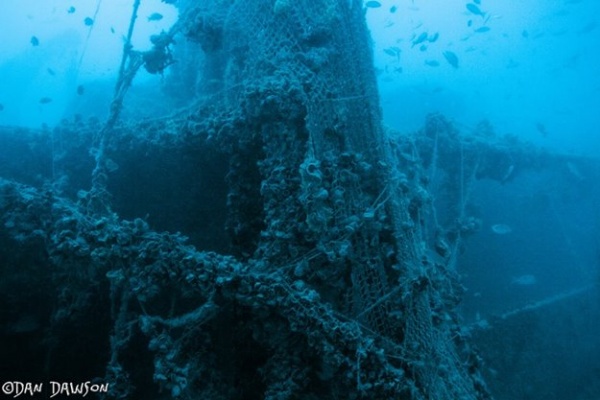 It's not only the wreck that draws us to the site, but also the creatures that you can encounter….
The Endangered Smalltooth Sawfish- National Oceanic and Atmospheric Administration (NOAA) Fisheries say that Sawfish belong to a group of fish called elasmobranchs, whose skeletons are made of cartilage. Sharks, skates and rays also belong to this group. They are called sawfish because of their long, flat snouts edged with pairs of teeth, which are used to locate, stun, and kill prey. They resemble a "saw". Unfortunately, sawfish have become a critically endangered spices due to loss of juvenile habitat and bycatch in various fisheries, especially in gill nets.
The Scalloped Hammerhead: Scalloped hammerheads can be found all around the world in coastal warm temperate and tropical seas. According to the IUCN Red List of Threatened Species they can be found from just beneath the surface of the water to 900 feet in depth! Often times this shark can be found in big schools, sometimes hundreds of them together. The U.S. Fish & Wildlife Service announced in September 2014 that scalloped hammerheads along with other sharks and rays were listed in Appendix II of the Convention on International Trade in Endangered Spices (CITES). This means that any international trade of spices listed in Appendix II of CITES must apply for and obtain appropriate documents. This is a step in the right direction for our beloved sea creatures!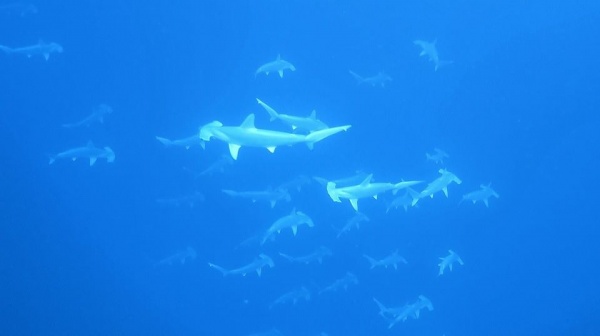 Not only may you have the opportunity to see these amazingly beautiful threatened and endangered spices but the size and schools of amberjack are jaw dropping as well as the the mere size of the goliath groupers and lobsters that can be found at those depths are unheard of!
With another day of diving behind us, I think it's safe to say that Horizon Divers will be running more trips to the Queen of Nassau as long as we have the folks interested! How could you not be!