Becoming an expert scuba diver takes many years, and dozens of dives. Once mastered, diving is a skill like no other, allowing humans to explore the beauty of the world's oceans and lakes from a truly unique perspective. It's why we fell in love with scuba diving, and maybe why you did, too.
But like any practice or trade, scuba is a craft that needs to be refined and improved, no matter how long you've been diving. That's why, here at Horizon Divers, we encourage all of our divers to consider taking a refresher course every so often, to make sure they're diving to the best of their abilities. In fact, according to the Diving Equipment and Marketing Association (DEMA), there are plenty of divers out there who need a refresher course immediately.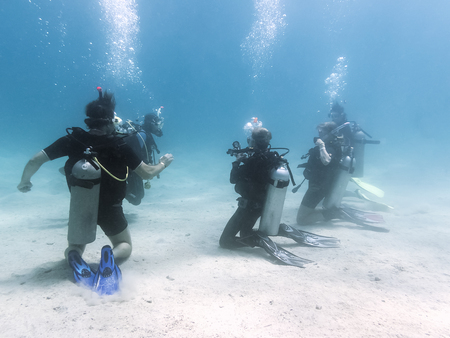 If you haven't dived in at least two years, you should seriously consider taking a refresher course before you get back in the water. These classes usually include two components: an online portion, where divers study materials related to diving technique and safety; and a practical portion, where a dive master evaluates a participant for his or her ability to dive proficiently. If you haven't had a dive in a while, you may be surprised at how many of the basics you've forgotten!
Don't forget that Horizon Divers offers training and refresher courses taught by PADI and SDI-certified dive masters. At more than 100 dive sites, we use the most up-to-date equipment and protocols to ensure that divers are getting all the information and guidance they need. A safe dive is the right dive, and we'll have you back in the water in no time.
Keep Your Scuba Skills Sharp With a Refresher Course